09.10.17 - Free to Play Content Additions & NovtumberFest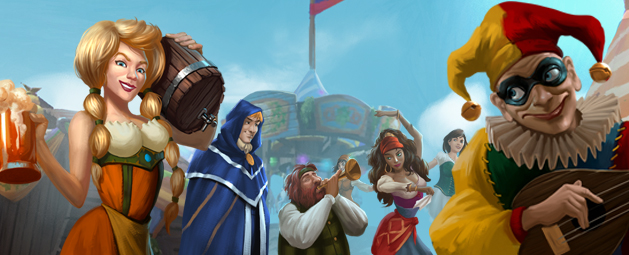 Tällä viikolla tuomme saavillisen päivityksiä uusille pelaajille, kuten Fletchins, questeja, armoureja ja paljon muuta (lueteltu alla). Voit myös ottaa osaa uuteen eventiin.
NovtumberFest
Kultaiset lehdet putoivelat siellä missä rantajuhlat kerran raikasivat. Lumbridgen asukkaat ovat ottaneet hanskat ja huivit esiin seuraavaa vilpoisaa syyskautta varten. Onneksi mikään määrä kosteutta ja tuulta ei voi lannistaa heidän tunnelmaansa. He ovat valmiina uuteen juhlaan -
vuorossa NovtumberFest!
Vaahtoisia tuoppeja ja paljon hurmaavia lederhoseneita ympäriinsä seuraavan neljän viikon ajan.
Voit kehittää useita eri skillejä
- slayerista prayeriin, farmingista summoningiin - ilman
maksuja
ja
XP capia
.
Oletko enemmän vaeltava yksinäinen susi?
Pidä silmät auki Guntherin kärryn varalta, joka joutuu onnettomuuteen kolmen tunnin välein F2P alueilla.
Seikkailija, joka häntä auttaa saa paljon XP:tä!
Palkintoja? Totta kai luvassa on palkintoja! Sen lisäksi, että voi kehittää skillejäsi kavereidesi kanssa, voit saada
useita NovtumberFest-teemaisia lemmikkejä, animaatioita, outfitteja, gearia ja "Party Animal" tittelin
kaikille niille, jotka antavat kaikkensa - myös F2P pelaajille.
Kippis!
Free to Play Content Additions
Jep, luit oikein.
Muutamme rekkalastillisen sisältöä ilmaispelaajien pelattavaksi.
Koska, toisin kuin jättipakkaukset suklaata, RuneScape on parempi jaettuna.
Turha vatvoa.
Tässä lista, joka on nyt kaikkien pelattavissa:
Quests
A Soul's Bane
Priest in Peril
Gertrude's Cat
Missing, Presumed Death
Perils of Ice Mountain, ja kyky tehdä pickaxeja
Song from the Depths ja grotworm cavernin ensimmäinen kerros
Broken Home ja questin jälkeinen sisältö (asylum surgeon's ring on edelleen members-only sisältöä);

tämän myötä pelaajat pääsevät tutkimaan Morytaniaa ja Dig Sitea Silvarealla.
Skills and abilities
Fletching
Kaikki combat abilityt (paitsi Metamorphosis, Berserk ja abilityt, jotka saa members-only sisällöstä)
Weapons and armour
Off-hand weapons
Coifs
Studded leather armour
Hard leather chaps
Hard leather cowl
Spider silk shield
Carapace shield
Wizard armour, mukaan lukien boots ja shield
Extras
Shooting Star D&D
Evil Tree D&D
Pääsy Warrior's Guildiin (ja rune defendereihin!)
Tämä on kuitenkin vain tiivistelmä muutoksista. Täyden listan löydät patch noteista. Nyt kun se on sanottu:
jos sul lysti on ja tiedät sen, niin anna Ninja teamille vähän rakkautta!
*antaa rakkautta*
Patch Notes
Spoiler:
Enjoy!
*kilistelee tuoppeja*
The RuneScape Team
LootScape!
Katsotko live streameja? Et? Miksi? Tässä kuussa tuomme teille LootScapen, joka on uusi tapa saada mukavia esineitä pelissä katsomalla live streameja joka kuukausi.
Liitä RuneScape accountisi Twitch accountiisi ja katso jokin tiistain tai perjantain live streameistamme, jonka jälkeen saat ilmaista tavaraa!
Ensimmäinen ilmaistavara on Twitching Orb pet - jonka saat mistä tahansa tiistain tai perjantain live streamistamme lokakuun aikana. Pidä siis silmäsi avoinna ensi viikon suunnitelmia varten!
Voit liittää accountisi Twitchiin
näiden ohjeiden avulla
.
Live Streams this Week
Streamaamme joka viikko Developer Q&A:ta, in-game eventejä ja muuta. Katso streamejamme ja löydät täyden aikataulun
Twitch kanavaltamme
.
Pistäydy myös
Youtube kanavallamme
, josta löydät otoksia streameista, joita et välttämättä nähnyt, kuten RuneFestin tapahtumat molemmilta lavoilta.
Sunnuntai 15.10. - 22:00 SUomen aikaa – PvM with Mod Lee
Mod Lee järjestää PvM eventin!