07.08.17 - Crystal Skillchompas & Tweaks
Mestaruuteen on monta tietä, mutta sormen mennessä suuhun valitse jyrsijä.
Tällä viikolla saatte monta skillchompa-päivitystä - joista odotetuin lienee
crystal skillchompat
, jotka Mod Timbo mainitse edellisellä viikolla
Month Ahead live streamissa
.
_______________
Crystal Skillchompas
Uudet skillchompat löytää Isafdarista, pohjoiseen Tyras Campista (
jossa on vaaleampia puita kuin muualla. Kiitos Timbo.
)
Crystal skillchompat vaativat 97 Hunterin voidaksesi metsästääksesi niitä ja 61 Divination, Fishing, Mining tai Woodcutting käyttääksesi niitä parempien hyötyjen toivossa.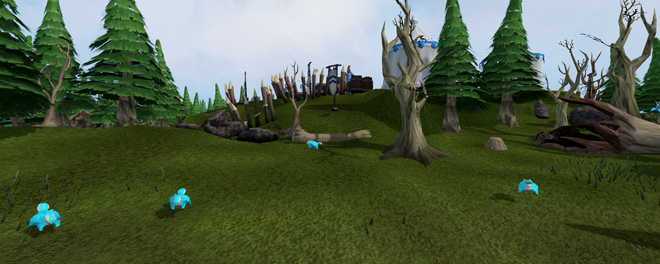 Skillchompa Updates
Olemme myös muuttaneet sitä miten skillchompat toimivat tehden niistä entistäkin käytännöllisempiä:
Voit nyt saada useamman skillchompan kiinni kerralla, riippuen Agility levelistäsi, ja saat XP:tä jokaisesta kiinni otetusta.
Jos Agility levelisi on tarpeeksi korkea, sinulla on 100 % mahdollisuus saada useampi skillchompa kiinni kerralla.
Skillchompat toimivat nyt inventorystasi, sekä normaalisti vanhaan tapaan-
Box trapeja voi nyt asettaa combatissa.
Saat Invention tool XP:tä jos et onnistu skilling aktiviteetissa, mutta käytit skillchompia.
_______________
Patch Notes
Tämän viikon patch noteissa on paljon nähtävää sekä ilmaispelaajille että Dungeoneeringin ystäville:
Ilmaispelaajat voivat käyttää ja valmistaa carapace ja batwing armoureita.
Kahden pelaajan tiimit voivat nyt aloittaa large dungeonin.
Dungeoneering ja Sinkhole mapit pysyvät auki ja päivittyvät dynaamisesti huoneiden auetessa.
Skilling plot ikonit fishingille, farmingille (plants ja pots), miningille, woodcuttingille, prayer altareille ja summoning obeliskeille näkyvät nyt minimapissa Daemonheimin luolissa.
Spoiler:
_______________
Get Skilling
Mutavaa viikkoa. Nähdään pelissä!
The RuneScape Team
_______________
Live Streams this Week
Streamaamme joka viikko Developer Q&A:ta, in-game eventejä ja muuta. Katso streamejamme ja löydät täyden aikataulun
Twitch kanavaltamme
.
Pistäydy myös
Youtube kanavallamme
, josta löydät otoksia streameista, joita et välttämättä nähnyt, kuten viime viikon August Month Ahead !&A ja Unfinished Business -päivitys.
Perjantai 11.08. | 20:00 Suomen aikaa | Update preview with Mod Shauny
Saat tietää mitä ensi viikon maanantai tuo tullessaan, Mod Shaunyn seurassa!
Sunnuntai 13.08. | 22:00 Suomen aikaa | PvM with Mod Lee!
Mod Lee järjestää PvM eventin, joka tulee suorana Twitchissä!