31.07.17 - The Beach | Solomon's Store: King & Queen of Hearts
Lähetetty:
01.08.2017, 20:13
31.07.17 - The Beach | Solomon's Store: King & Queen of Hearts
Rantabileet pääsevät vauhtiin tällä viikolla. Solomon on saanut kuninkaallisia vaatteita kauppaansa.
_______________
The Beach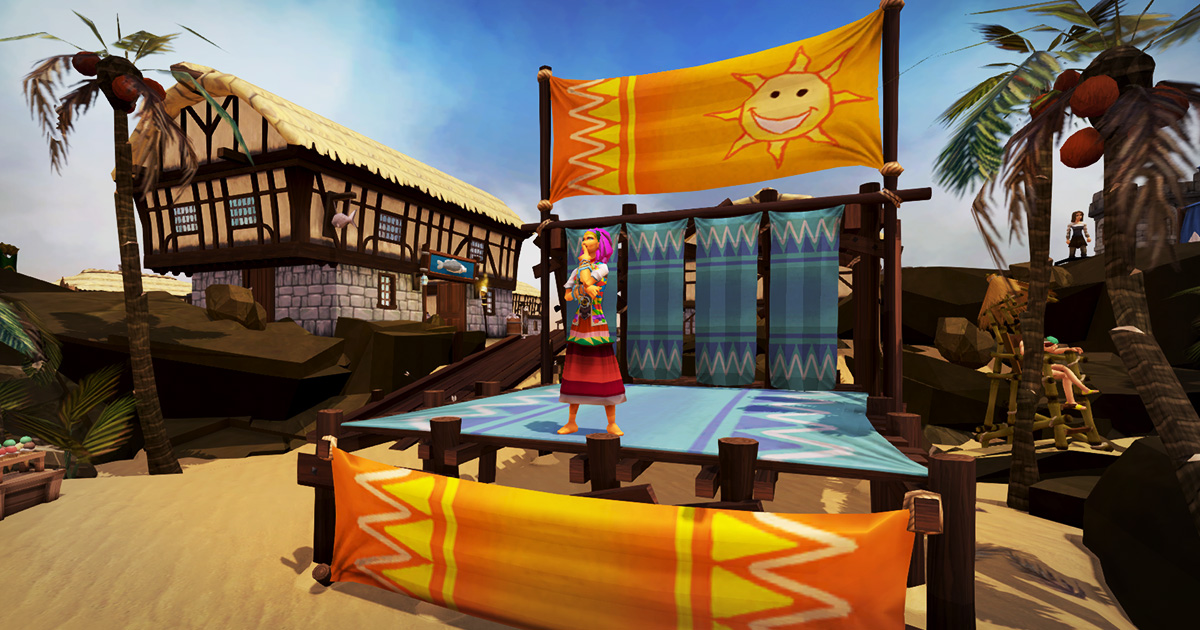 Jokaisen suosima kesäkiva on täydessä vauhdissa Lumbridgen kraaterissa juuri nyt.
Mene sinne ja nauti muiden seurasta sekä kesäisitä skilling aktiviteeteista: coconut shy, barbecue, rock pool fishing, muscle-beach weightlifting ja monesta muusta.
Muista ottaa treasure map Reynalta, jotta voit saada palkinnon joka päivä.
Liity kanssapelaajien joukkoon 45 minuutin välein ja kukista ärtynyt Clawdia. Clawdiaa on hieman muutettu siten, että taistelu vaikeutuu hieman kiireisissä maailmoissa.
Muihin muutoksiin kuuluu uusi terrorbird racing -reitti ja Menaphos-teemainen Construction hiekkalinna.
Kaiken lisäksi voit saada monta uutta kosmeettista palkintoa:
Clawdia balloon
Sandcastle pet
Octopus pet
Gleefully colourful parasols
Pyramid hat
'Palm Tree Hammock' rest animation
Bubble blower
Voit myös saada
"Slo-Mo Run" walk animaation
jos suoritat 10 kierrosta Terrorbird coursea. Huomaa, että tarvitset edellisen vuoden Terrorbird Racingin palkinnon sitä ennen, mikä vaatii 10 ylimääräistä kierrosta.
Kerää kaikki - myös edellisten vuosien palkinnot - ja saat
täysin uuden tittelin
.
Aurinko paistaa ja vesi on lämmintä, joten tule pelaamaan, mene Lumbridgen kraateriin ja katso mitä Reynalla on tarjota.
_______________
Solomon's Store | Hearts Outfits and Weapons
Valaise huoneet kuninkaallisella asulla, jossa on paljon rakkautta. King ja Queen of Hearts outfitit ovat nyt saatavilla
Solomon's Storessa
.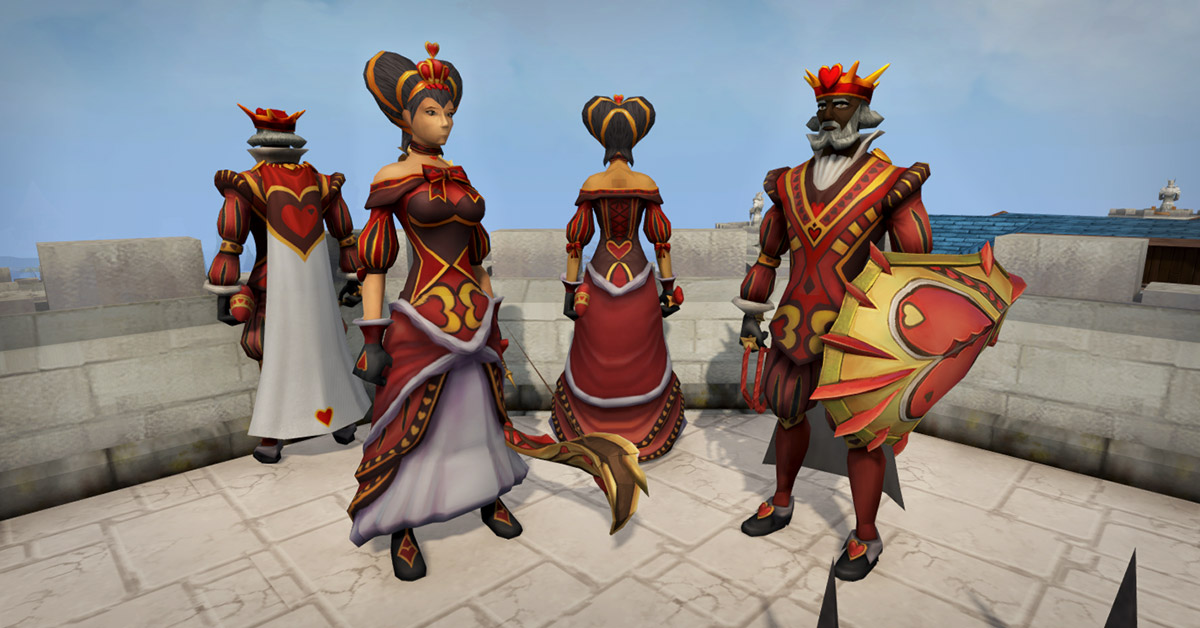 Pakettiin kuuluu täysi miesten ja naisten override setti, sekä monta herttateemaista asetta: longbow, whip, wand, orb ja shield.
Voit ostaa sen "Extras" interfacesta pelissä tai Solomon's Storesta. Tarvitsetko lisää RuneCoinseja? Voit saada niitä bondeista pelissä, painamalla "Earn" Solomon's Storessa, tai
ostamalla niitä sivuiltamme
.
_______________
Patch Notes
Spoiler:
_______________
Enjoy!
Mukavaa viikkoa. Nähdään pelissä!
The RuneScape Team
_______________
Fire Lycan Pet | PC Gamer Promotion
Olemme liittyneet PC Gamerin kanssa tarjoukseen, josta saat Fire Lycan legendary petin. Ihaile sen komeutta alla.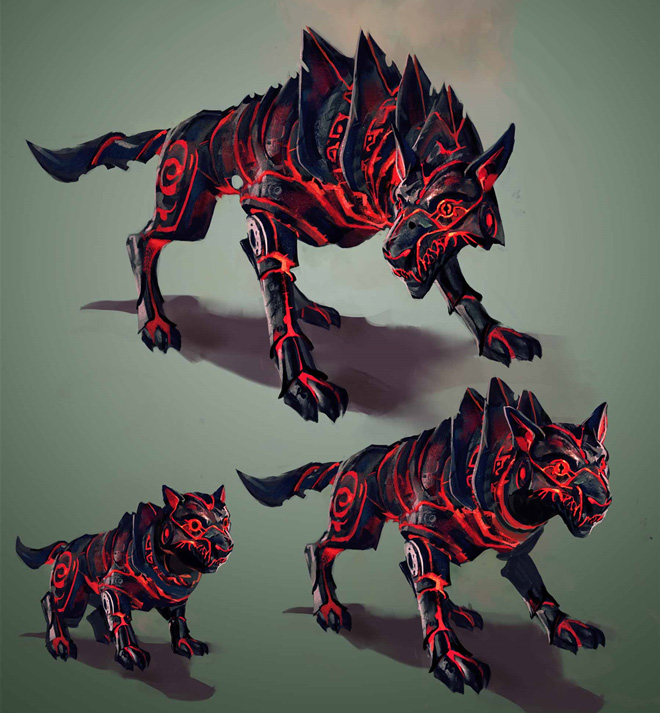 Sen voi saada lehden fyysisestä UK versiosta - jonka voi ostaa lehtimyyjiltä nyt - sekä
PC Gamer Clubista
.
_______________
Live Streams this Week
Streamaamme joka viikko Developer Q&A:ta, in-game eventejä ja muuta. Katso streamejamme ja löydät täyden aikataulun
Twitch kanavaltamme
.
Pistäydy myös
Youtube kanavallamme
, josta löydät otoksia streameista, joita et välttämättä nähnyt, kuten
mitä elokuu tuo tullessaan
.
Tiistai 01.08. | 19:00 Suomen aikaa | August Month Ahead + Unfinished Business Update
Käsittelemme August Month Ahead videosta tutuksi tulleita päivityksiä ja kerromme hieman lisää niistä, joita odotatte eniten.
Keskustelemme myös Unfinished Business tiimin kanssa. Lue viimeisin
Unfinished Business Dev Blog
, josta saat kaiken tarvitsemasi tiedon.
Perjantai 04.08. | 20:00 Suomen aikaa | Update preview with Mod Shauny
Saat tietää mitä voit odottaa maanantain päivityksiltä, Mod Shaunyn seurassa.
Sunnuntai 06.08.| 22:00 Suomen aikaa | PvM with Mod Lee
Mod Lee järjestää PvM eventin, joka tulee suorana Twitchistä.