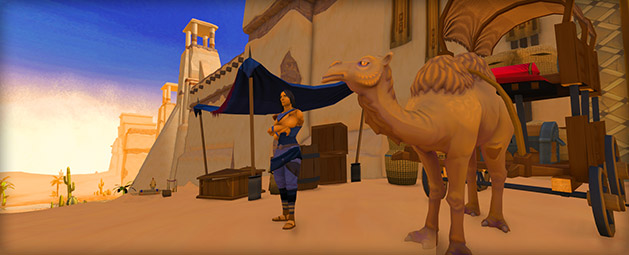 19.06.17 - Aiding the Exile: Menaphos Event
Tänään alkaa uusi event kultaisessa kaupungissa:
Aiding the Exile
.
Puhu
shady lurker
ille Menaphoksen edessä, jonka jälkeen voit kerätä
Menaphite coins
eja skillaamalla tai kehittämällä combatia
Menaphoksessa tai Sophanemin Slayer Dungeonissa
.
Saat 20 % enemmän Menaphite coinseja Miningista, Thievingistä, Fishingistä tai Woodcuttingista. Huomaa, että et saa coinseja Daily Challengeista, sillä niitä ei voi suorittaa kaupungin sisällä.
Kerää 1000 kolikkoa päivässä ja saat upeita palkintoja, kuten magic carpet rest ja teleport animaatiot.
Jos jäit jälkeen, tai haluat nopeuttaa prosessia, voit nostaa päivittäistä ylärajaasi Runecoinseilla Reward Storessa.
_______________
Patch Notes
Spoiler:
_______________
Enjoy!
Toivomme että viihdyt Menaphoksessa. Nähdään pelissä!
The RuneScape Team
_______________
In Other News
Vic the Trader jatkaa bisneksiään 02:59 21. kesäkuuta asti.
_______________
Community & Competitions
WIN: A Razer Gaming laptop!
Voit osallistua vielä
Razer gaming laptopin arvontaan
tämän viikon ajan!
Golden Path Winners
Onnittelut Golden Path challengen voittajille - Fire Noob, Ranging Pro ja xoKatiLina - he voittivat itse valitsemansa täysin maksetun matkan RuneFest 2017:ään kahdelle tai elinikäisen membershipin itselleen ja kaverille. Arvoitusten ratkaisijoille: hienosti tehty.
Toivomme että nautitte siitä! Katso edellisen viikon
Reddit AMAA
, jos haluat tietää siitä enemmän.
_______________
Live Streams this Week
Streamaamme joka viikko Developer Q&A:ta, in-game eventejä ja muuta. Katso streamejamme ja löydät täyden aikataulun
Twitch kanavaltamme
.
Pistäydy myös
Youtube kanavallamme
, josta löydät otoksia streameista, joita et välttämättä nähnyt.
Perjantai 23.06. | 23:00 Suomen aikaa | Patch Notes preview with Mod Shauny
Mod Shauny käy läpi ensi viikon päivityksiä. Täältä saat ensiannoksen patch noteja.
Sunnuntai 25.06. | 21:00 Suomen aikaa | PvM with Mod Lee
Käy hakemassa viikottainen annoksesi PvM:a - tule paikalle!