27.02.17 - Back to the Freezer | New Penguin Quest
Lähetetty:
27.02.2017, 18:34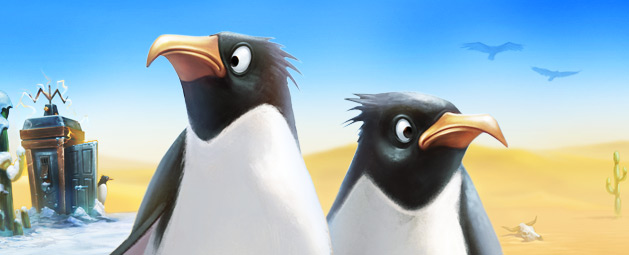 27.02.17 - Back to the Freezer | New Penguin Quest
Lupasimme questin ja kautta varpaideni sen saatte. Liu'u peliin heti ja nauti
Back to the Freezer
istä - uusimmasta
Penguin questista
.
_______________
Kuinka aloittaa



Puhu Chuckille Ardougnen eläintarhassa.



Vaatimukset



RuneScape memberiys
Ernest the Chicken
Some Like It Cold
50 Divination
45 Runecrafting
37 Slayer
Pingviinit ovat palanneet ja he tuovat mukanaan metkan ja rähjäisen tieteensä, joka jättää sinut pohtimaan maailmankaikkeuden olemusta... sekä useita sanaleikkejä.
Palkintoihin kuuluu aimo annos XP:tä, jolla voit lämmitellä pohjoisen kylmää vastaan, sekä enemmän XP:tä Penguin Hide & Seek ja Circus minipeleistä.
Olet nyt omillasi. Pystytkö välttämään levottomuudet Gielinorin kylmässä sodassa? Saat tietää vain yhdellä tavalla.
_______________
Enjoy!
Mikään muu ei sano RuneScape kuin pingviinejä käsittelevä questi. Mod Helen ja Nexus ovat työskennelleet kovasti tämän questin eteen. Pitäkää hauskaa, ja kertokaa mielipiteenne forumeilla.
The RuneScape Team
_______________
Patch Notes
Spoiler:
_______________
Live Streams this Week
Voit katsoa live streameja
Twitchissä
. Sieltä löydät myös täyden aikataulumme.
Perjantai 03.03. | 23:00 Suomen aikaa | Community update with Mod Shauny
Liity Mod SHaunyn seuraan ja näet mitä voit ensi viikolta odottaa.
Sunnuntai 05.03. | 21:00 Suomen aikaa | PvM with Mod Lee
Saat taas annoksen PvM-hyvää Mod Leen seurassa - tule paikalle!