13.02.17 - Patch Week | Valentine's Pt 2 Coming 15th February
Lähetetty:
13.02.2017, 17:20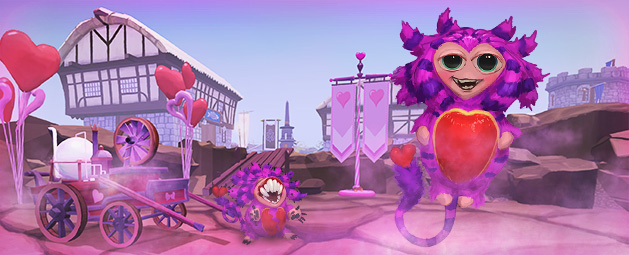 13.02.17 - Patch Week | Valentine's Pt 2 Coming 15th February
On patch viikon aika, joten käy lukemassa
patch notet
, jotta saat tietää mitä pieniä muutoksia olemme tehneet.
Kohokohtiin kuuluvat mm.
Shield of Arrav
questin muuttaminen niin, että voit tehdä sen ilman toisen pelaajan apua, sekä elämää helpottavia muutoksia sekä
Shield of Arraviin
että
Heroes' Questiin
- kuten mahdollisuuden vaihtaa jengiä, johon kuulut.
Huomaa, että Heroes' Questiin tarvitset yhä toisen pelaajan apua.
_______________
Valentine's Continues
Keskiviikkona 02:00 15.02. julkaisemme toisen osan Valentine's eventistä.
Huom.



Vaikka eventin toinen osa jakaa saman teeman ja hahmot kuin ensimmäinen osa, se on mekaniikoiltaan erilainen. Tee kaikki haluamasi ensimmäisestä osasta ennen kuin se loppuu 01:59 15. helmikuuta.
Olet auttanut Wizard Deeditiä Lumbridgen kraaterin tyhjentämisessä, mutta devotion spritet ovat lähteneet vaeltamaan.
Kerää kankaan palasia skillauksesta, combatista ja Daily Challengeista. Voit vaihtaa ne Wizard Deeditillä Sprites-Be-Gone Rewards Storessa palkinnoiksi.
Palkintoihin kuuluu sprite-asu, jolla - kun molemmat osat on puettu - voit häätää 10 devotion spriteä ympäri maailmaa XP lamppuja vastaan.
Voit myös saada mystery boxeja Deeditiltä, ja pääpalkintona on oma devotion sprite pet.
Voit kerätä enintään 1 000 kankaan palaa per päivä. 10 000 palasta tarvitaan kaikkien palkintojen saamiseen. Event kestää 14 päivää.
Jos haluat saada palkinnot nopeammin, voit käyttää RuneCoinseja Rewards Storessa nostamaan päivittäistä rajoitustasi.
_______________
Game Jam Streams
Meillä on täydellistä materiaalia toiselle näytölle tämän viikon Double XP Weekendin ajaksi: ensimmäinen RuneScape Game Jam.
Olette ehdottaneet upeita ideoita sisällölle, ja nyt 25 kehittäjää käyttävät tulevan viikonlopun tehden niistä niin monta kuin he ehtivät.
Voit seurata heitä, ja saada pieniä vilkauksia siitä mitä he tekevät, live streamissa: alkaen 17:00 Suomen aikaa 18. ja 19. helmikuuta.
Voit katsoa streamia
Twitchistä
. Ole tarkkana mahdollisten behind-the-scenes haastattelujen varalta Facebookissa ja Twitterissä!
_______________
In Other News
Sunnuntai 19.02. | 21:00 Suomen aikaa | PvM with Mod Lee
Mod Lee järjestää PvM eventin, joka tulee suorana
Twitchissä
!
Snapchat takeover – Mod Neena – torstai 16.02.
Mod Neena valtaa RuneScapen Snapchatin yhdeksi päiväksi - saatte tietää hieman enemmän siitä millaista elämä Jagexilla on, ja mitä markkinointitiimimme tekee päivittäin!
Seuraa meitä Snapchatissa "runescapegame"!
_______________
Patch Notes
Spoiler:
_______________
Enjoy!
Nähdään viikonloppuna, kun Double XP -hulluus on alkanut. Pitäkää hauskaa!
The RuneScape Team